Environment-Friendly, No Radiation, Anti-Slip Building Materials, Brushed Surface, Terrazzo Floor Tiles lttrade.en.made-in-china.com


Who are us:
Under the banner of L.T Group , L.T Terrazzo is a professional custom precast concrete
pavers manufacturer who has focused on terrazzo tiles/pavers design and producing for
decades. From the original manual production to now fully automatic production line,
L.T TERRAZZO has witnessed the development of terrazzo products in China market.
Over the years we have achieved significant growth and gain recognition by developers,
landscape designers and architects.
Terrazzo pavers & tiles:

Terrazzo tiles/pavers are at the very top of our paving range and feature attractive choices
of exposed stone chips, pebbles and glasses which are made visible to give an attractive
finish with a good slip resistance. The range offers architects, designers and owners
wonderful scope to achieve striking indoor to outdoor effects.

Sizes and finishes

We love to create bespoke paving projects for residential & commercial floor tiles, wall tiles,
stair treads & risers and the likes. All of our terrazzo paving range can be made to
custom shapes, profiles, designs and finishes upon request. Below is a list of our standard sizes:
300mm x 300mm x (20-25)mm
600mm x 300mm x (20-25)mm
600mm x 600mm x (20-25)mm
600mm x 150mm x (20-25)mm
600mm x 200mm x (20-25)mm
800mm x 800mm x (20-25)mm
800mm x 400mm x (20-25)mm

600mmx1200mmx(25-30)mm

Finishes:
1. Paving generally comes in four standard finishes, each with their own advantages.
2. Smooth Finish - also called polished surface, provides a natural look.
3. Sand Blasted - surface been hitted by high-speed steel grains, so the surface will be
un-smooth, offers high slip resistance with the natural look.
4. Honed (ground) -not polished, only get rid of the cutting blade marks, exposes the
stone grains at the surface revealing beautiful colors & ornate patterns.
5. Brushed- exposes the aggregates at the surface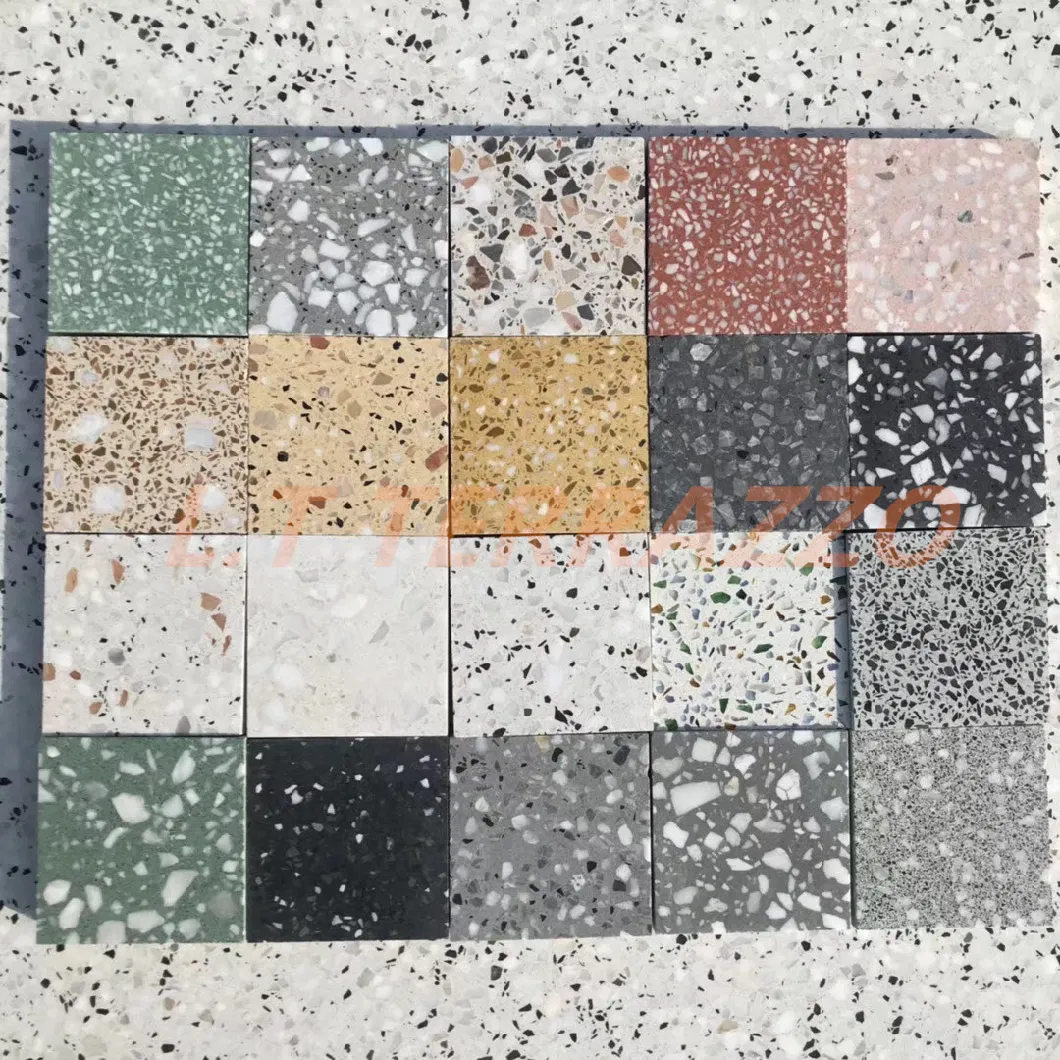 Our Lab science formula
Our Lab plays a very important role during the production of Terrazzo tiles/pavers:

1. Various stone chips, grains, sands, colors seem disorganized in a terrazzo tile, truth is it's
beautiful because its balance to all substances. Our lab is just like a magic place where tech
workers scientifically matched all kinds raw materials, making finish products less porous
and high strength, meanwhile considering the design of our clients.
2. Our lab will closely monitoring whole producing process and make final judge of quality
of finished products.


Advantages of terrazzo floor:

Terrazzo basically as kind of concrete floor, has all outstandings same as concrete:

1. Sustainability. Concrete floors are a sustainable option if you use an existing concrete slab,
avoiding the consumption of new materials. And they need not be relegated to basements or
garages. Once the concrete is sanded down and polished or sealed, it looks perfectly refined
in a traditional kitchen or living room, especially when layered with Oriental rugs and pretty
furnishings and fixtures.

2. Easy care. The only maintenance required of concrete floors is weekly mopping with soapy
water. I recommend installing a baseboard along with the concrete floor as well, even though
you think you may not need it. Just imagine what a dirty mop would leave behind in the crevice
where the floor meets the wall if there were no baseboard. And it will make your choice look
finished and intentional.

3. Economical. The cost of concrete floors is very low, about $2 to $6 per square foot to polish
a plain gray slab, giving it a lustrous sheen. The concrete's tonal differences, subtle cracks and
aggregates take on a stonelike, natural feel.

4. Longevity. A floor that has been polished and maintained can be expected to last a hundred
years or more. In this home, let's appreciate how an aged and cracked concrete floor was not
hidden under new tiles or carpet. Instead it is celebrated for the history it holds, and has been
put on display along with other architecturally salvaged materials.

5. Versatility. For exterior applications, silicone-based penetrating sealers can be used to avoid
the wet look. We can see here how concrete is a good flooring material for indoor-outdoor transitions.



Concrete also looks nice with actual stone veneer walls. It accentuates their rustic appeal.
Concrete can be an economical and crafty choice in lieu of salvaged wood flooring. Stamping
wet concrete with plank-like wood-grain imprints creates a lovely effect.


Development:

Now because of the scientific proportion of the terrazzo formula and machinery producing
process ensure a large number of output can achieve uniform quality, color zone and subtle
deviation on sizes(±1mm), reduce production cost at the same time.
We have a experienced team, can make a solution in short time.
New producing line specially for oversea market has been installed at 2018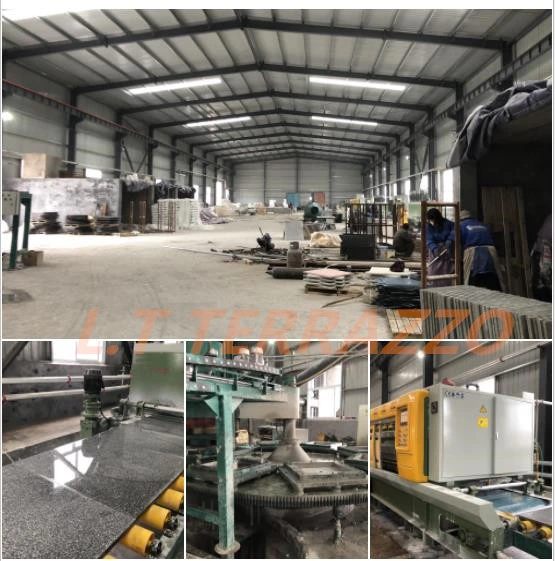 L.T terrazzo laying cases show: